The 2020-2021 Financial Year was a record year for BDO Australia's national M&A team, successfully completing 11 deals, valued at over $400 million.
The 2020-2021 financial year was a record year for BDO Australia's national M&A team, successfully completing 11 deals, valued at over $400 million.
This success flowed from a significant investment in tripling the size of their national specialist M&A team over the past two years. As well as a willingness to adapt to dynamic business environments.
Throughout the year, the M&A team won and completed high profile deals, supporting a range of clients including privately held and ASX-listed companies, across a broad spectrum of mandates including buy-side and sell-side lead advisory roles across national and cross-border transactions.
Key highlights were the sale of Go West Tours to Sealink Travel Group; Advising Mach7 Ltd on the acquisition of Client Outlook; the sale of McKay Drilling to TSX-listed Major Drilling International and the sale of Vortiv Ltd's to CyberCX.
These landmark deals highlight the skills that the M&A advisory team possess in deal origination, negotiation and completion and their strength across Australia. The sale of Vortiv's cybersecurity business to the BGH Capital-backed CyberCX is a prime example - with a Perth-based vendor, a Melbourne-based buyer and business assets in Sydney. BDO was able to provide experienced, dedicated M&A partners in each city to support every aspect of the transaction. COVID-19 Pandemic protocols necessitated an entirely online transaction and negotiation process, leveraging cross-office cooperation to bring the deal to a successful conclusion and deliver excellent client outcomes throughout. It was the first occasion, to our knowledge, that a private equity party completed a deal without meeting the target management team in person.
BDO's strong national performance is also attributable to our significant M&A presence in Perth which is unmatched by any of its national contemporaries.
Click on the table below to view our deals for the 2020-2021 financial year in full size.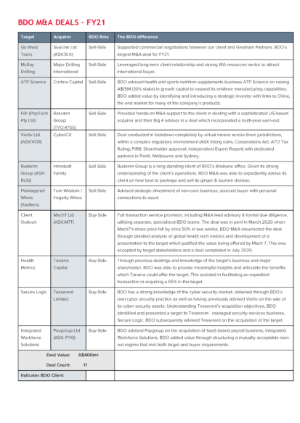 The performance of BDO's record breaking year has resulted in BDO being shortlisted for MergerMarket's Mid-Market M&A Financial Adviser of the Year, 5-150 million USD.
MergerMarket is an independent M&A intelligence service, specialising in providing forward-looking origination and deal flow opportunities. The MergerMarket Australia M&A Awards 2021 celebrate the best in M&A with over 20 prizes for creative advisory work on complex transactions.
Contact Us
BDO is a trusted adviser for clients undertaking a merger or acquisition. Our advisory team offer full-service M&A including buy-side and sell-side advice for clients. Contact us to discuss how we can help your business.