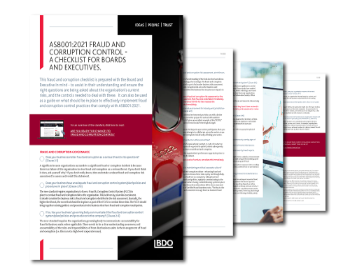 A new Australian Standard AS8001:2021 - Fraud & Corruption Control was released on 11 June, 2021. This Standard is considered the benchmark when it comes to how organisations can mitigate fraud and corruption risks, and is of particular importance to Boards and Executives.
In light of the release of AS8001:2021, BDO's Forensics Team have prepared a checklist with the Board and Executives in mind. This checklist has been designed to assist stakeholders in their understanding of their organisation's current risks and controls, ensuring that the right questions are being raised and addressed.
This 8-page, detailed checklist acts as a comprehensive guide to effectively implementing fraud and corruption control practices that comply with AS8001:2021.
If you would like to know more about the release of AS8001:2021 and the changes to Fraud and Corruption control, read our recent article: AS8001: Are you ready for the changes to fraud and corruption control?
Need help? Contact us.