A-REITs have roared back to life: findings from BDO's 27th Annual Survey of Australian Real Estate I
A-REITs have roared back to life: findings from BDO's 27th Annual Survey of Australian Real Estate I
Australian Real Estate Investment Trusts (A-REITs) have roared back to life after a year of uncertainty brought on by the COVID-19 pandemic, outperforming the S&P/ASX 200 Index by 7.1 per cent, and delivering a positive return of 31 per cent.
Australian Real Estate Investment Trusts (A-REITs) have roared back to life after a year of uncertainty brought on by the COVID-19 pandemic, outperforming the S&P/ASX 200 Index by 7.1 per cent, and delivering a positive return of 31 per cent.
The results come from the latest analysis by global accounting and professional services firm, BDO in Australia, in the 27th Annual Survey of A-REITs, revealing that all market sectors delivered positive returns for FY21 – a first since FY18.
The strong rebound has been led by the industrial sector, with the boon in e-commerce fuelling a demand in warehousing, storage and logistics facilities.
The retail sector has also recovered somewhat after a disappointing FY20, buoyed by consumer confidence and pent-up demand during lockdowns.
Office is also on the up, as vacancy rates continue to fall and long-term rental leases are negotiated as business confidence returns.
BDO in Australia's A-REIT specialist and Corporate Finance Partner, Sebastian Stevens, shared his observations from this year's report:
"A-REITs have bounced back strongly after a significant decline in FY20 when COVID-19 first hit our shores," he said.
"That rebound looks like FY21 was a cracking year, but it's really demonstrating that the market probably reacted too heavily in 2020 with all the COVID-19 uncertainty, and 2021 has seen a reversion to a more stable view of the sector.
"The industrial sector was the big A-REIT winner this year because of the acceleration of online retail which fuelled demand for warehouses and logistics facilities. The acceleration of online retail was always going to happen but the pandemic fast-tracked the adoption of widespread online shopping habits.
"The future is bright for the industrial sector too, as businesses begin to bring manufacturing back onshore after serious challenges with supply chain squeeze and high freight costs. With local manufacturing back on the table, there will be increased demand for manufacturing locations and warehouses and I predict that we will see some sustainable growth in the industrial sector.
"While the retail sector was the hardest hit by the pandemic, pent up consumer demand has meant that the sector has recovered well. The report shows that the trend for online shopping is not a real substitute for physical retail therapy and dining at restaurants, and that has worked in the sector's favour post-lockdown.
"Likewise, people will want to come into the office for the same reason they want to go to the shopping centres and malls, because they crave those personal interactions.
"The office will now be a place of collaboration and instead of shrinking office spaces, we expect to see a demand for revised fit-outs and workspace so that organisations can expand focus on collaboration and reinvent the office as a destination hub.
"A-REITs have been such a resilient sector over the years because they always know how to reinvent themselves and how to best mitigate risk.
"Many A-REITs have already shored up their revenue by negotiating long term leases and cheap debt, and they will position themselves for growth by continuing to reinvent themselves."
The S&P/ASX A-REIT 200 Index returned 31.0 per cent in FY21, outperforming the broader market index (S&P/ASX 200 Index) by 7.1 per cent.
According to the latest BDO A-REIT report, all categories outperformed their FY20 result during FY21 with the industrial category performing the best with 41.4 per cent (FY20: -1.5 per cent), followed by diversified with 35.9 per cent (FY20: -25.7 per cent), retail with 22.4 per cent (FY20: -37.8 per cent), and office with 16.4 per cent (FY20: -28.2 per cent).
2021 A-REIT Sector Price Returns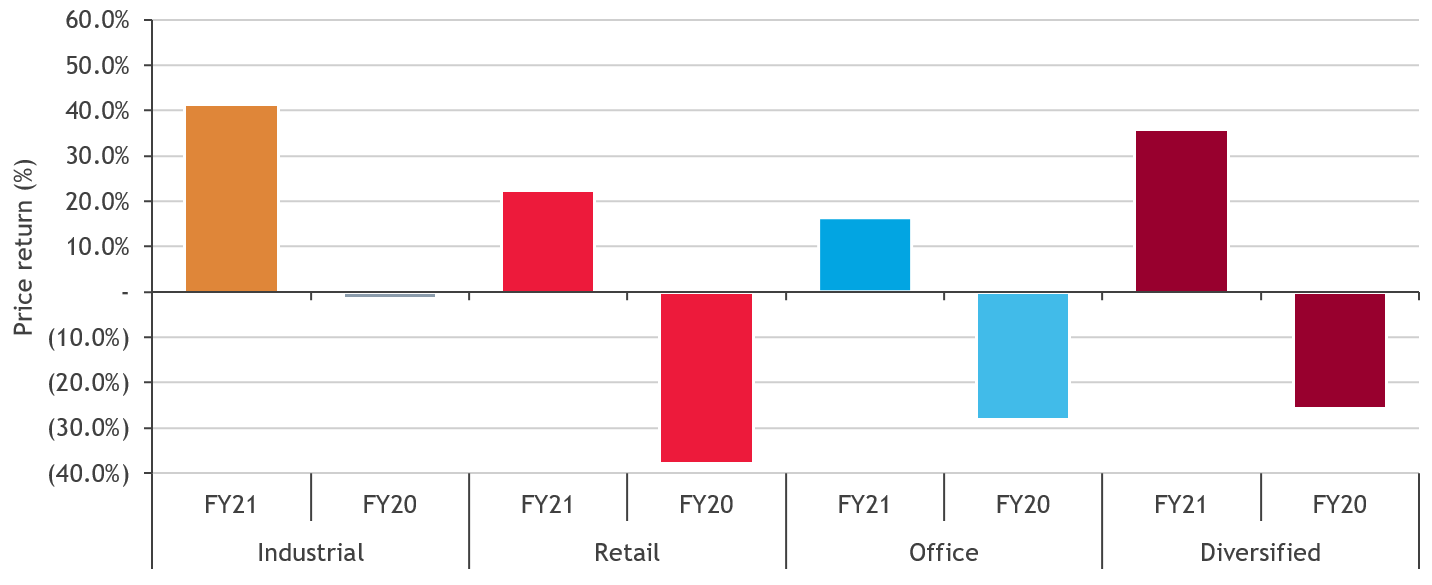 Source: CapitalIQ and BDO analysis
A-REITs continue to maintain lower gearing levels, with an average c.25% gearing in FY21. This compares with the sectors long-term gearing levels of c.30%.
The total amount of capital raised was $4.2 billion in FY21, with the largest transaction of the year being a fixed income debt raise by Unibail-Rodamco-Westfield valued at $1.1 billion. This figure is significantly lower than FY20 which saw a total of $11.6 billion raised through a combination of debt and equity raisings. Continued market uncertainty and stemmed cash flows, from decreased consumer activity, has led to market participants requiring capital to fund either transactions or operations.
Top 10 A-REITs of 2021
The BDO annual survey of A-REITs, now in its 27th year, ranks the S&P/ASX 200 A-REIT Index trusts based on key financial and investment indicators in the 12 months to 30 June each year.
Find the top 10 A-REITs of 2021 in the report