2022 has been a year full of highlights for ESG issues, with the world economy adopting new approaches to sustainability. We take a look at some sustainability developments of note in 2022.
2022 has been a year full of highlights for environmental, social and governance (ESG) issues, focusing on how the world economy is proactively and reactively adopting new approaches to sustainability. There have been many important developments across the year, and the impact of these emerging themes will only continue to influence global trends. What have the most important developments for ESG been, and how will these progress beyond this year?
Emerging sustainability themes centre on the 'think local, act global' mentality that is pushing Australian businesses to rethink the impact of their operations, especially when compared to competitors globally. Access to capital, markets and people is essential for growth, with sustainability being a key enabler. ESG provides a comprehensive framework to assess a business' commitment, innovation and resilience to sustainability trends.
Here, we take a look at five of the major sustainability developments of note in 2022.
1. Sustainability reporting: good governance
Increased organisational focus on sustainability initiatives results in the progressive reporting, measurement and monitoring of developments over periods of time. We know first-hand that 2022 has been a significant year for sustainability reporting, with broadening transparency, support and commitments from many organisations.
Almost 70% of medium to large Australian organisations claim to have publicly disclosed their approach to 'measuring and managing climate risks', with 90% of those aligned to the Taskforce for Climate-related Financial Disclosures, according to an Australian Prudential Regulation Authority (APRA) survey.
It is important to note that future-state reporting requirements may be placed on organisations, especially ASX-listed companies, to demonstrate their ESG credentials.
We expect this trend to continue in 2023, as more organisations look to protect or improve access to people, markets and capital through transparency and reporting.
2. Decarbonisation of the global economy: a crucial opportunity
2050 is an important year in our future. Consistent with science-based targets aimed at limiting global temperature increases to 1.5 degrees or less, the focus for governments, businesses and communities is to reach net zero greenhouse gas emissions by 2050. It was in September 2022 that the Australian Government put figurative pen to paper, passing its landmark Climate Change Bill 2022. Australia's emissions reduction target of 43 per cent by 2030 and net zero emissions by 2050 are now set in law.
Both locally and globally, urgent action needs to be undertaken now, and in the coming decades. Direct and indirect ESG initiatives are essential in achieving a target of net zero by 2050, and include:
Reducing carbon emissions
Improved water and waste management
Increasing energy efficiency and rationalising consumption
Investment decisions and financial instruments
Technological development and innovation, and
Resource and energy security.
COP27, held in November, demonstrated the continued commitment from world leaders to decarbonise the global economy, with a particular emphasis on the impacts of climate change. In fact, the introduction of the Climate Change Bill 2022 in Australia now requires the incumbent Minister to prepare an annual climate change statement, stating the progress on Australia's emissions reduction target along with other local and international updates.
But it's not just in the hands of the Government. Initiatives focused on decarbonisation from organisations of all sizes are important to address both the causes and effects of global warming, especially considering the impacts on both people and the planet.
3. Supply chain management: navigating the storm
Operations are an essential component for any business, and ESG has become increasingly important in managing supply chains. Production and distribution cycles need to reflect the realities of human rights, fair labour practices, anti-corruption and modern slavery implications for supply chains.
The integrity and transparency of supply chains have demonstrably contributed to the ability of organisations to maintain operations throughout periods of volatility, material shortages and disruptions. The causes of these challenges include COVID-19, political instability and inflationary pressures throughout 2022, among other difficulties. Capital and investment decisions also contribute to how supply chains develop and adapt to market conditions. Supply chains of the future will likely be more sustainable and resilient to global challenges.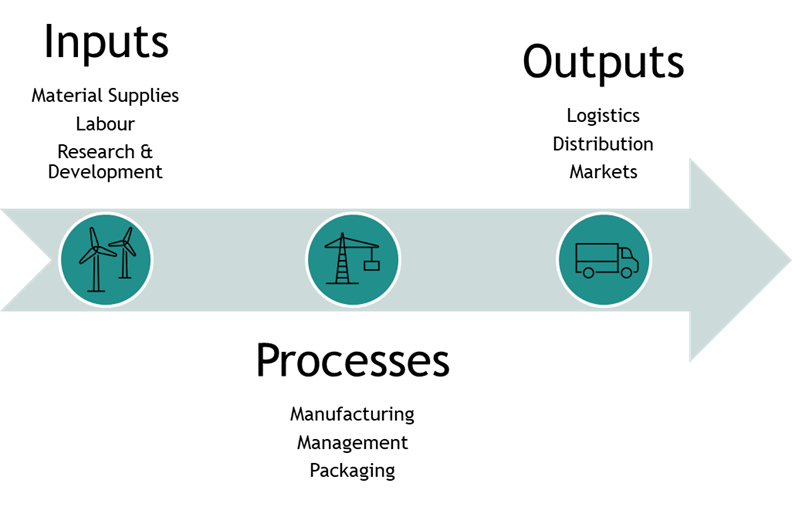 (click image to enlarge)
4. Business ethics: cultural practice
As we know, an organisation's business ethics comprise its established values, principles, standards and behavioural norms, and determine how integrity and transparency can be demonstrated within the organisation. Throughout 2022, we've seen the continued importance of articulating these cultural practices as an essential, preventative mechanism against unlawful and unethical behaviour such as bribery and corruption, money laundering, misconduct and other matters – and even greenwashing. Responsible governance mechanisms that reinforce good cultural practices within organisations include:
Diversity, equality and inclusion initiatives
Fraud and risk management
Privacy protections and procedures
Responsible tax strategies and transparency
Hiring, recruitment and staff retention policies, and
Standards and quality assurance practices.
Throughout 2022, ESG commitments have focused on the causal impact these principles have on an organisation's operations. For example, employee engagement, particularly post-COVID-19, is increasingly highlighting the importance of flexibility, working conditions and an organisation's values. While the nuances of cultural practices will undoubtedly continue to evolve as we move into 2023, metrics and monitoring can help organisations remain in step with their stakeholders and employees.
5. Regulation and oversight: the targeting of 'greenwashing'
Legislatures and regulators are constantly monitoring for developments within their jurisdictions. Developing trends include cryptocurrencies, driverless cars and the ever-changing 'shared economy'. Throughout the year, statements from the Australian Securities & Investments Commission (ASIC), the Australian Competition & Consumer Commission (ACCC), Australian Prudential Regulation Authority (APRA), and the Australian Securities Exchange Limited (ASX) alike have highlighted the undesirable practice of 'greenwashing'. This term is used to refer to companies that have in some way misrepresented their ESG credentials without the appropriate sustainability commitments. The clampdown that has been occurring throughout 2022 has demonstrated that when company disclosure is misleading, it may be subject to scrutiny.
Organisations can use ESG to provide insight to investors and the community by disclosing their sustainability commitments appropriately. By focusing on environmental, social and governance matters, organisations can use this framework to create trackable metrics for their progress towards ESG targets. Beyond 2022, we expect that there will be greater oversight and specific regulation of sustainability disclosure, with more and more companies choosing to demonstrate their ESG credentials.
What's next for ESG?
ESG will become increasingly important within the global economy, not only for providing insight into the commitments and resilience of organisations, but also the ability to contribute purposefully and achieve greater economic access.
The notion of pursuing an ESG agenda at the expense of economic prosperity is quickly disappearing. Committing to, and actively implementing, common sustainability initiatives makes good business sense and drives long-term enterprise value beyond 2023.
Here to help
If you're looking at developing your sustainability strategy or reporting in 2023, our national team of sustainability advisers are here to help. Contact us today.