While the conversation on ESG is here to stay, the path to implementing it and conveying the results to stakeholders in a meaningful, comparable, and measurable way is still under development. Here we examine the role digitisation takes in sustainability's shift from buzzword to boardroom talk.
ESG takes centre stage: From buzzword to boardroom talk
In the past, organisations were expected to maximise profits and report on the impact of their decisions and operations based on the value to shareholders. But in recent years, turbulent geopolitics, trade wars, global warming, and COVID-19, among other factors, have caused a dramatic shift from shareholder value to stakeholder value. Today, governments, regulatory bodies, activists, investors, and consumers demand that organisations have a longer-term vision backed by quantifiable performance metrics and targets that measure broader stakeholder impact.
As a result of the collective awareness, buzzwords like the triple bottom line, sustainability, green, and eco-friendly have paved their way into boardroom conversations under the umbrella term of environmental, social, and governance (ESG).
The stakes of resisting an ESG strategy are high, with potential consequences being reduced investor interest, higher cost of capital, increased risks, and negative public perception.
Rocky path: Evolving complexity in implementing ESG strategies
While the conversation on ESG is here to stay, the path to implementing it and conveying the results to stakeholders in a meaningful, comparable, and measurable way is still under development.
Organisations face several impediments in their journey towards ESG compliance because of the evolving nature of the ESG space: the changing reporting frameworks and regulatory requirements, lack of industry benchmarks, multiple sources of guidance, and more. Only once an organisation understands, distils, and contextualises the evolving components for itself can it correctly define and distinguish between its short- and long-term ESG targets, and communicate the corresponding impact to its stakeholders.
These targets must then be supported by credible and consistent metrics. This is where organisations often face difficulty—how do you determine the metrics on which to report and how do you ensure the integrity of the data that backs them consistently? These questions require the aid of technology in bringing structure, consistency, and integrity to create a robust reporting process.
What unique benefits can digitisation bring to ESG implementation?
The visual below examines the key activities involved in ESG implementation and how digitisation can enable them.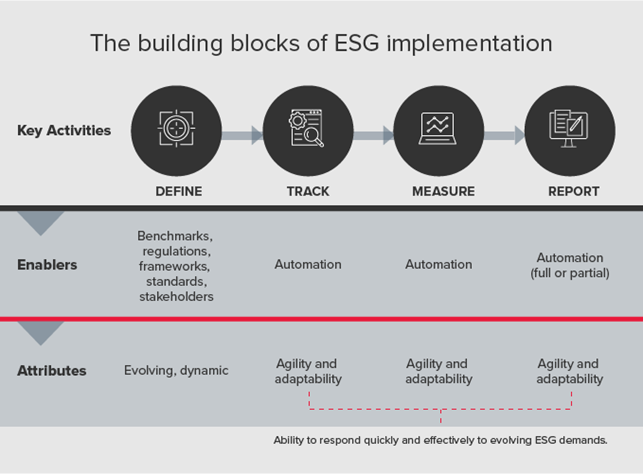 Once you have completed step one, Define, and determined the material metrics to report on, digitisation can facilitate the subsequent steps of tracking, measuring, and reporting. This means that the entire process of collecting, aggregating (creating a single source of truth), and synthesising data in alignment with your metrics, as well as reporting in accordance with the selected framework(s) and standard(s), can be handled by out-of-the-box solutions or customised automation.
Even though digitisation is not a silver bullet, it can significantly streamline and accelerate your efforts to become ESG-compliant and add myriad benefits to the organisation along the way.
"At a very high level, ESG provides a lens through which organisations can review their existing processes and impacts. Digitisation can support organisations to improve efficiency and effectiveness through continuous improvement and innovation. From tracking and reporting, to reducing waste, or automation of processes, there is a myriad of ways digitisation can support organisations on their ESG journey."

– Aletta Boshoff, National Leader, ESG & Sustainability
Software solutions make it possible to leverage analytics and artificial intelligence to predict trends, determine opportunities for improvement, and find gaps in a timely manner. Automating the end-to-end ESG implementation process through out-of-the-box or customised solutions provides the critical advantage of creating a traceable audit trail for more robust governance and easier reporting.
Enable resilience and continuous improvement
ESG is constantly evolving. From what it means to stakeholders and organisations to the regulations that determine how compliance and non-compliance are reported on, the influencing factors remain in flux. In such volatility, digitisation equips you with the agility to adapt with ease and speed, freeing up resources that would be spent reinventing the wheel in response to changes in the ESG landscape.
How BDO can help
Our ESG solutions deliver high-impact strategies in an increasingly competitive business environment. We can help you implement the technology solutions necessary to accurately define, track, measure, and report on your ESG performance—all to increase your stakeholder value.
Reach out to learn how we can help you leverage technology to reach your ESG goals.
This article originally appeared at: https://www.bdo.ca/en-ca/insights/advisory/sustainability-services/how-technology-enables-esg/