The end of the rental moratorium (30 June 2022) couldn't have come at a worse time for retailers with inflationary pressure on inputs, rising interest rates, ongoing labour shortages and the Australian Tax Office pressing for repayment of COVID-19 period tax debts. Over the last two years, the NSW and VIC Governments mandated negotiations between tenants and landlords with the objective of achieving a fair and reasonable outcomes for all parties.
Despite good intentions, the Code of Conduct has resulted in a myriad of issues across both retail and commercial tenancies, with landlords and property operators viewing the Code of Conduct as an interventionist policy due to the financial impact on private contracts between tenants and landlords. This has understandably taken its toll, resulting in strained relationships between tenants and landlords following drawn out negotiations while accrued liabilities continue to rise for both parties.
The below chart presents the financial impact to tenants reliant on foot traffic in the CBD from a cash flow perspective with regards to servicing ongoing rent repayments. Cash flow issues are beginning to arise for businesses reliant of CBD foot traffic (i.e. retail, tourism and education providers) where they are expected to repay deferred rent in addition to their ordinary rent or accrued ATO liabilities despite the CBD remaining at 55% occupancy.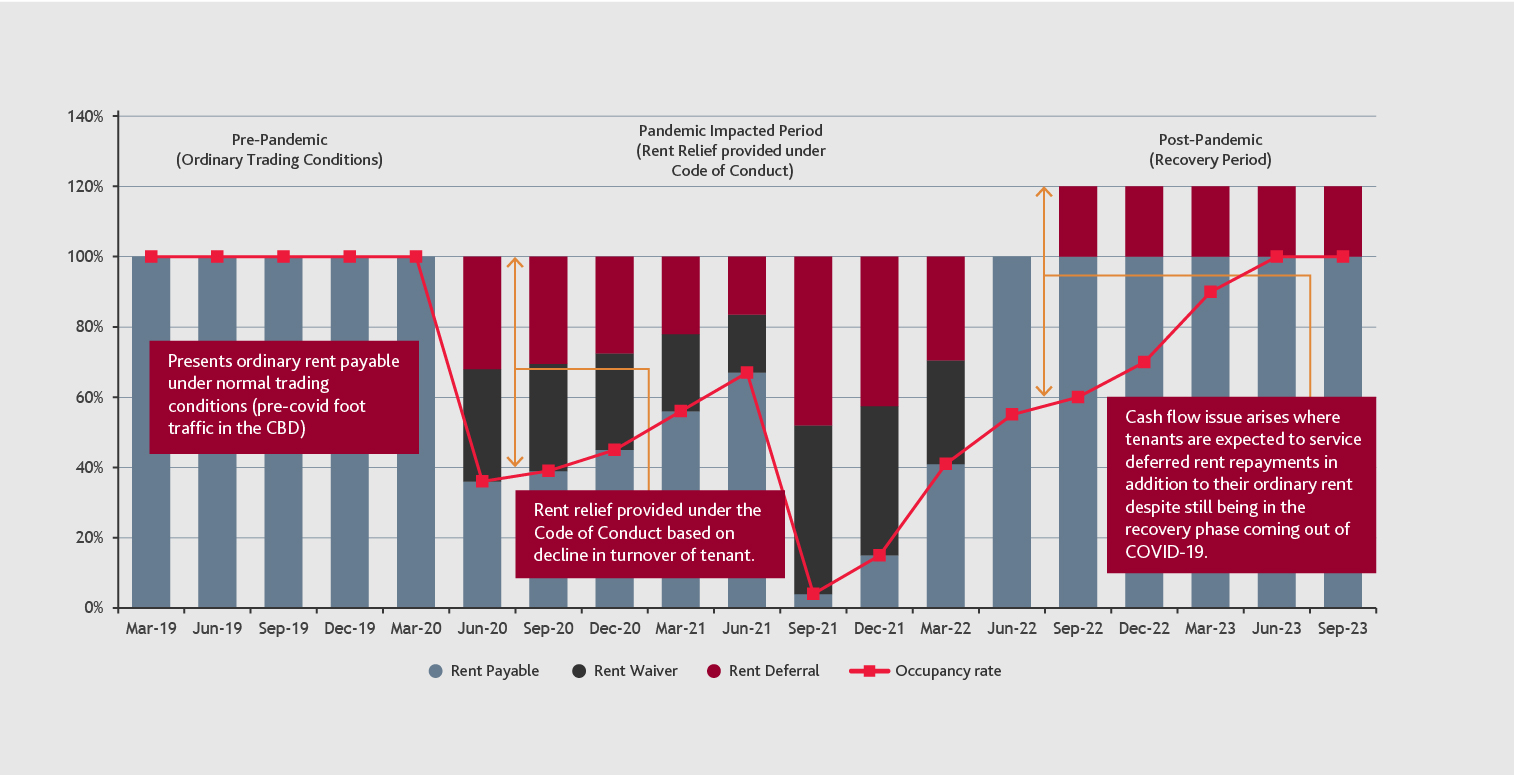 Click to open in full size in a new window.
Tenants and landlords alike will face considerable pressure over the coming months to finalise negotiations and make informed decisions surrounding lease variations and terms. Landlords will also need to make informed decisions surrounding the financial viability of tenants and their ability to service rent repayments under the lease.
BDO's Special Situations Advisory team has prepared a guide which outlines the key challenges tenants and landlords are facing in the current market and some insights to assist in navigating the next two years
For more information on how BDO can assist please contact our Special Situations team.